Encroaching dust bowl. Environmental degradation. Climate change.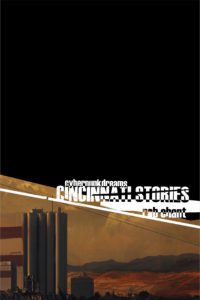 The United States is broken. Torn apart by wars of secession, ecological disaster and political conflict. The mid-west, poisoned by biological and chemical weapons, has become a barren, infertile wasteland. The cities, straining under the weight of the ensuing refugee crisis, have succumbed to rampant corruption and urban decay. On the border of order and chaos, civilization and barbarism, lies the city of Cincinnati.
This is bleak, uncompromising cyberpunk. This is our future.
---
cyberpunkdreams: cincinnati stories was successfully funded on Kickstarter in September '17, hitting its target in a couple of days and going on to reach double the funding overall. The book was made available in digital, softback and hardback formats, with final delivery being completed over summer '18. Check out the Kickstarter page here:
kickstarter.com/projects/cyberpunkdreams/cyberpunkdreams-cincinnati-stories
If you didn't get yourself a copy at the time, don't panic. There will be a follow-up Kickstarter for a second edition (plus other material) in November '18, and then (possibly) the opportunity to buy the book online next year.
Exclusive content
Sign up to receive updates about new content and releases. You'll also be sent a couple of short stories from the cyberpunkdreams universe, including something you won't read anywhere else.